A recipe proposed by the chef of the restaurant "Brin de Laurier" located in Cleppé, in Loire.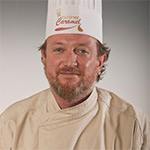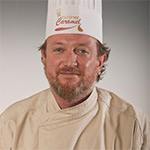 A recipe proposed by the chef of the restaurant "Brin de Laurier" located in Cleppé, in Loire.
Which caramels are used in this recipe ?
Lasted butter caramel, strong caramel and burnt sugars
1.8 kg fresh frog legs
2 tbsp. chopped garlic
50 g semi-salted butter
1.5 kg Roma tomatoes
25 cl virgin olive oil
Fresh thyme
1 pasta packet of Chinese raviolis
350 g salted butter caramel
1 tbsp. chopped parsley
1 tbsp. chopped coriander
2 finely chopped shallots
1 touch of Thai lemongrass
5 g sugar
8 g salt
Pepper
A little balsamic oil
A little rice vinegar
100 g brown butter
45 g burnt sugars
10 cl lime juice
15 cl soy sauce
½ lemongrass stick
A hint of garlic
A zest of half a lemon Combava
150 g strong caramel
3 limes
A touch of ginger
The day before, blanch the tomatoes and peel them, cut them in quarters and seed them. Spread them on a nonstick plate or parchment paper. Brush the tomatoes with the half garlic, the olive oil and the thyme, then salt, pepper and sweeten slightly. Leave to cook in the oven at 70° C (th. 2) for about 2 hours. Reserve the confit in the fridge.
The same day, gently cook covered frogs with butter and garlic. Then remove bones meticulously. Preserve them in the fridge.
Fry the leaves of Chinese vase-shaped ravioli.
Cook the butter. Deglaze with  burnt sugars.
Add the lime juice, soy sauce, lemongrass stick, garlic and lemon zest.
Bring everything to a boil.
Heat the caramel and deglaze with lime juice and ginger.
Bring everything to a boil.
Butter 6 moulds (10 cm of diameter), cover the walls of moulds with the candied tomatoes. Bind frogs with semi-salted butter, remaining garlic, shallots melted in butter and chopped herbs. Fill the moulds then unmould them gently.
Decorate with a dash of sauce around. Fill the ravioli with flowers seasoned with balsamic oil and rice vinegar.
Sprinkle with lime caramel.