Puff pastry caramel brioche
Discover our recipe of Puff pastry Brioche with caramel.
A recipe signed CuisinezCaramel by Nigay located in Feurs, in the Loire.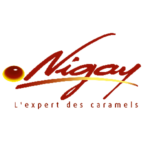 Prep. : 30 mn
Rest time 3h30
2 brioches
for 6 to 8 people
Which caramels are used in this recipe?
Caramel filling + Caramel pieces
• 300g of flour • 6g of salt • 28g sugar • 60g of eggs • 28g of butter • 110g of milk • 15g of baker's yeast • 150g of kneading butter • 200g Nigay semi-salted butter caramel • 50g Nigay caramel pieces
• Knead the flour, salt, sugar and eggs for a few seconds • Add the yeast and the milk • Knead until the dough separates perfectly from the bowl and gradually add the butter • Mix until a sufficiently glutinous network is obtained • Allow to rise for 1 hour at room temperature under a film (not on contact) • Degas and set aside at 4°C • Add the kneading butter to the tempera. • Give 2 simple turns and let rest at 4°C for one hour • Give 1 more single turn, roll out to 8 - 10 mm, cut out 4 rectangles of equal size (20 cm longer than your mould), brush one side with two strips of semi-salted butter caramel, superimpose 1 strip without caramel on a strip with caramel (caramel sandwiched in the middle), form a serpentine shape and place in a cake mould • Leave to rise for 2h30 at 28°C • Brown and cook at 160°C in a revolving heat for 10 minutes, then at 145°C for 30 minutes, sprinkle with caramel chips and cook for another 10 minutes. • Turn out of the mould when the brioche is still warm.