160th anniversary of Nigay: a "all caramel" meal at the Racecourse of Feurs!
For its 160 years (1855 – 2015), the company Nigay organized among other things a caramel meal. The signature caramel recipe from starred-chef Christian Têtedoie was highlighted for the main course. The racecourse of Feurs (42) was the perfect place to celebrate this anniversary because of the long partnership with the company Nigay which lasts since 1857!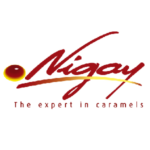 Sweet, salty, caramelized...
In pictures, some caramel tastings…