THE AMAZING "BROWN OR BLACK BURGER" A COLOURING METHOD YOU HAVE TO TRY!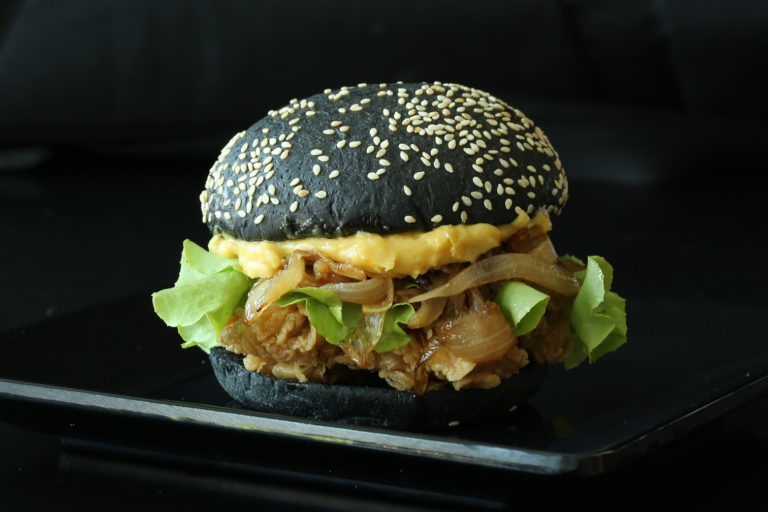 The addition of caramel is a real benefit to a wide range of breads
Nigay SAS is always seeking to innovate in order to bring more creativity. These days, French consumers are more and more attracted by the snacking trend, products for their "on-the-go" consumption and are looking for original recipes. In response to this trend, Nigay offers its caramels colour for the brown or black burger to surprise consumers. Indeed, the addition of our caramels allows to colour, darken and reinforce the brown colour of your bread to give it a very unique signature.
THE ESSENTIALS :
· Caramel colour are produced for specific applications and are used to uniform and stabilize the colour of foodstuffs.
· EFSA confirms the harmlessness of caramels colour, as well as the non-existence of carcinogen-ic and genotoxic risks
· Caramel manufacturers ensure that their products are safe and comply with current regulations and go beyond this through their researches. Find out more on our monograph: Caramels & Health : Caramel & Health – Savour the taste in a healthy way (nigay.com)
5 REASONS TO USE OUR CARAMEL COLOUR:
ü Adding caramel colour give the opportunity to offer unique signature to hamburger buns
ü Our caramel e150d (AMN) adds no burnt notes, unlike squid ink which gives an iodine flavour.
ü Using caramel colour as a lower cost than squid ink.
ü Caramel is a food colour that is often used in the food industry and is regulated by the European Union.
ü The recommended dosage is 1.2% to be increased if you wish to obtain darker shades.
DID YOU KNOW THAT?
Bread is the most important food for the French!
Among French, 96% of them, are considering bread to be an essential part of their culinary heritage, and is the undisputed star of the meal side dish. On average, each French person consumes 105 grams of bread per day from Monday to Friday. Bread is very important to the French: 77% eat it for dinner, 76% for lunch and 65% for breakfast. It is an essential food on French tables as 48% say they cannot eat without bread and 87% always have some at home.
Part of the current trends about food, we take care about what we consume and the French are more and more sensitive to the quality of products and their origins. Today, they are more interested in consuming healthy and eco-responsible products. They are also more and more interested in quality ingredients than in quantity. They are looking for new things to stimulate their taste buds. Moreover, taste, traditional production and freshness are the three criteria sought by bread lovers.
Since the Covid 19 pandemic, trends have changed. During the lockdowns with the increase of home office, the French were back in the kitchen, and baking bread became a new challenge. .
So adding caramel is the key factor to add diversity to your recipe.


Ingredients for 20
hamburger buns of 40g each (approximately) :
– 500 g flour
– 100 ml milk
– 120 ml water
– 1 egg
– 10g salt
– 70g sugar
– 15g of baker's yeast
– 30 g butter
– 12g AMN caramel, 1,2% approximately
– 75g sesame or poppy seeds


Instructions:
To make this brown and black burger buns recipe, start by preparing all the ingredients.
Weigh out all the ingredients in a blender except the butter (be careful not to mix the yeast directly with the salt).
Mix on speed 1 for 2 minutes and then on speed 2 for 8 minutes.
After 10 minutes of kneading, add the butter.
Let the dough rests for 45 minutes at room temperature.
Weigh 40g pieces and shape them into a ball.
Let them rest for 15 minutes then shape them into a firm ball.
Using a pastry brush, moisten the top of the balls with water and sprinkle the top with sesame/poppy seeds.
Let them swell for about 1 hour at 25°c.
Bake in a oven at 220°c for about 10 to 15 minutes
Let the breads cool down on a rack
Enjoy your brown/black burger!
We invite you to download the document on the manufacture of coloring caramels for more information: USIPA_Fiche Caramels colorant_BD.pdf