Discover our vanilla caramel tartlet recipe.
A recipe signed CuisinezCaramel by Nigay located in Feurs, in the Loire.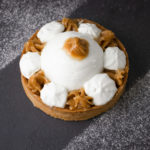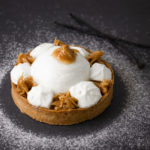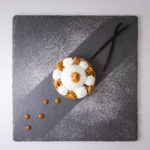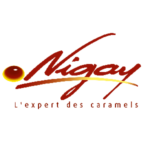 What caramels are used in this recipe?
Sweet dough • 250g of flour • 2g of salt • 75g of icing sugar • 25g of almond powder • 1 eggs Dacquoise • 20g of icing sugar • 20g of hazelnut powder • 6g of flour • 35g of egg white (a large white) • 15g of powdered sugar Caramel • 300 g of Caramel Nigay with vanilla Vanilla cream • 1 vanilla pod • 200ml of whipping cream • 30g of icing sugar Neutral icing • 25g of water • 150g of sugar • 2g of gelatin sheet
Sweet dough Beat together the butter, icing sugar and salt. Add the egg and ground almonds. Mix until the mixture becomes creamy. Incorporate the flour and knead until a homogeneous ball is obtained, then mill. Form a pancake, wrap and place in the refrigerator for at least 2 hours. Line into bottomless tart molds Dacquoise Roast the hazelnut powder; add to the other powders and mix everything together. Beat the egg whites and gently incorporate into the powders. Spread out on a baking sheet with baking paper; cook for 15 minutes at 170 ° C rotating heat. Cut 6 circles to the size of the tart molds (inside diameter). Vanilla cream Bring the cream with the vanilla pod cut in half to a boil. Leave to infuse 10 minutes; scrape off the seeds. Keep cold for at least 4 hours. Whip the whipped cream and tighten with the icing sugar. Pour the preparation into semi-sphere silicone molds; put in the freezer overnight. Keep some whipped cream for decoration. Neutral icing Rehydrate the gelatin, bring the sugar and water to a boil, add the gelatin. Let the temperature drop to 35 ° C. Assembly Spread a layer of caramel at the bottom of each tart. Place a disc of dacquoise. Place the vanilla dome in the center, glaze it with the neutral frosting Pipe the vanilla cream and the caramel alternately around the dome.